ABOUT "REMEMBER US" CHARITY  CHY21252 
Remember Us is a unique Social Group for young people/adults with special needs, their families and friends. We cater for members from birth through to adulthood from the North Fingal and surrounding areas.
We began in 1998 with 15 families and currently, we have over 210 families registered with us which equates to over 700 people.
Our Families describe Remember Us as their LIFELINE, as having a child/adult with special needs can be very isolating, not only for the individual concerned but, for the family as a whole.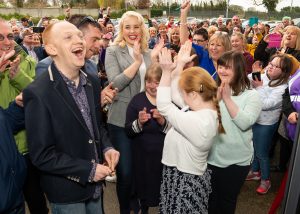 Our Aims are

To provide an integrated social environment for people with special needs where they can learn, form friendships, and above all have fun.
To Develop their social and life skills, self-esteem and quality of life
To help combat the feeling of isolation and help them to integrate into the community.
To provide support and information for our parents, carers and siblings

We do all this through social club activities/outings

In early 2014, we embarked on some major changes when we set up a company limited by Guarantee, registered as a charity and initiated the search for a new home for Remember us.  We are delighted to inform you that our new base is complete.

Our new home consist of a reception area, recreational room for teens /adults, office, purpose build wheelchair accessible wheelchair toilet complete with wet room, hoist, adult changing table, sports hall, junior recreational room for 4  to 12 year olds, sensor, room, parents room, 2 activity rooms. Multi purpose room for eg parent/toddler groups etc, staff kitchen etc.

We currently provide the following programmes.

Parent & toddler group
Parent support groups /parent classes/information evenings
4 – 8 group (Cool Kids)  Monday, Tuesday, Wednesday & Saturday
9-12 group (Cool Dudes) Monday, Tuesday, Wednesday & Saturday
13- 17 group (Cool Gang) Monday, Tuesday, Thursday  Friday & Saturday
18+ group (Cool Rockers) Monday, Tuesday, Wednesday Friday  & Saturday
Easter camp (2 weeks)
Summer Camp ( 4days & 1 night for 6 weeks)
4 Family Respite breakaways per year
Parents Respite Breakaway (1 per year)

"REMEMBER US PROVIDES A SOCIAL LIFE FOR LIFE"
Click here to find out how you can help